With 80 76 72 Days to go til christmas ( sorry I got distracted)  we thought it was time to start discussing cards and wrapping especially for those who like to make their own and need to get them posted for overseas. If your children are anything like mine you'll also get the call of we have to give out cards Mummy - one to every single person in our class - yep that's 56 cards for our family- I do put my foot down though and won't let them make them because I know for sure that I will end up having to finish them off. That being said we do like to make some style of card each year ( just not for every child in the class!)
Handmade Cards
So here is your little to do list --->
Work out about how many you need
Set a date for your card making.
Come up with a design.
 Here is a great article on ideas for family portraits for cards
I love this one - because you don't have to have one perfect picture and it shares a little about your family.
Last year I received this card from Kate - which I love. She is amazing getting those little munchkins to all participate - but what I really love is her little handstamped Christmas and hand written word Joy ? on the side. Such a simple idea yet carries so much meaning.
I haven't decided exactly what we will do this year  but I love the idea of some version of these cute props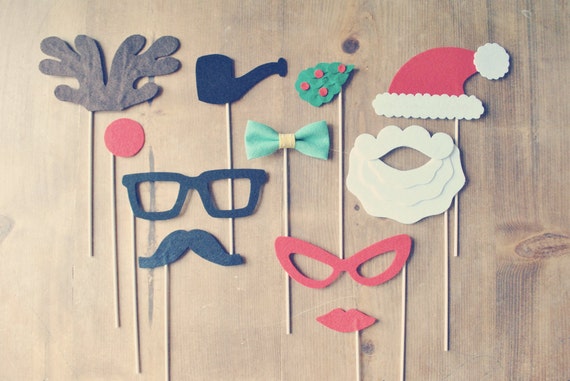 via www.etsy.com
The whole moustache thing is everywhere at the moment and it would be cute to look back on in years to come as one of those "what were we thinking trends".
The nice thing about a photo card is that taking the photo is the hardest bit - print as many as you need add it to the front of a card.  Pop over to pinterest and put in a  search for - christmas photo cards - a whole heap of lovely ones come up.
If you prefer to make something that is not photo based - there are a whole slew of ideas on pinterest  - Here are some of my favourites and none of them require any special "equipment" ( stamps etc )
via pinterest.com
via pinterest.com
 Last year Mel sent this one to  me - using just washi tape, doilies ( apaper and crochet) a tag and a button. It's the fresh colour combination  of Red, Aqua and Lime I think that makes this card stand out.
 Mel has a lovely tutorial over on her blog for Christmas wrapping. 
I'll be back again in a few days with our 70 days to go countdown - Home Decor - one of my favourite parts of Christmas :)