It's early - December the 1st :)
My favourite time of year
In my past real life the school year is winding down - seniors are gone (my main responsibility ) and I would be finalising internal audits and prepping for the following year.
But not this year.
Our house is usually a whirlwind of craft and baking for the neighbours church and school. Usually we have hand made gifts and as my sister would say its all so glittery here - ( family of mostly boys she thinks our house is so different from hers.)
But not this year.
Instead we have a new set of "traditions" -only have to do it once to make it tradition right?
The girls have just headed off to the airport  BEYOND excited to be going - The last few weeks in particular have been hard on them I'm happy that they get the chance to go and forget about stuff for a while.
Up until now my craft room and computer has remained relatively untouched. Though I have many projects in mind mostly just for me not others and with Richard working this week I'm hopeful that they come to fruition.
Our Tree is up- I ditched our big tree for something different this year - I love it - It may become our new norm.
I'm doing December Daily - I ummed an ahhed about it so much but I figured in the end I would want this time documented anyhow because next year we will return to our usual and I will have forgotten. I have faith in that.
Today marks the start of a new style December for our family and I'm excited to share that with you.
Around the interweb cool cool things that are happening to get you into your crafting spirit for December 1st. Here are my favourite five-
December Daily - amazing inspiring post by Ali about how to capture the daily stuff.
Read about it here
Kim's online class is in full swing - not to late to join and its stays open for a long long time. My fav project to date are two of Mardi's.  There are heaps of cute gift ideas -simple and perfect for school, Aunts, Grandmas etc
Join here
Tim is doing his 12 tags of Christmas again - 5 years running- he is amazing :)
Read about it here
Gail has a beautiful class kit and class available if you want to learn how she makes those gorgeous intricate layers.
and last in my crafty round up for today is this lovely gingerbread house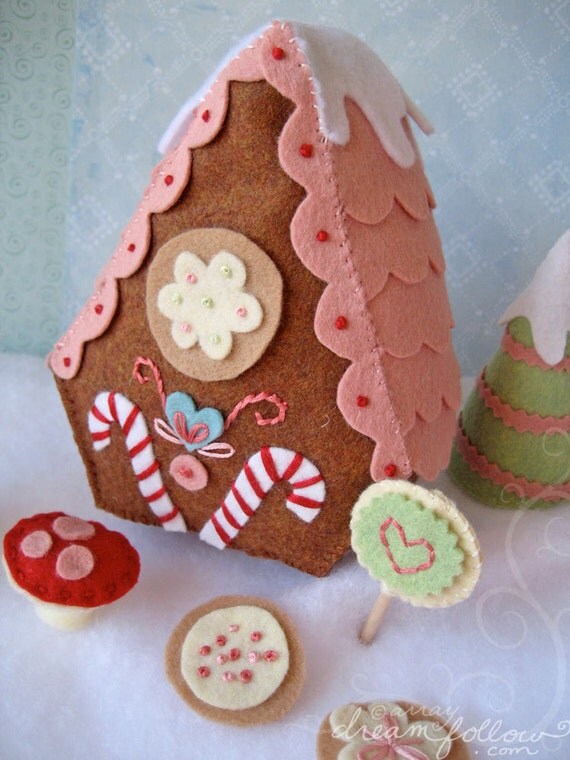 via www.etsy.com
While I already have a fair amount of stitching to do-there is something about this that I just love. Maybe I'll keep the idea for next year.
Even more exciting for me is while I have prepared this post this morning I drank a WHOLE mug of tea. The WHOLE mug not just a few sips.
Surely with that coffee is not far off my I can do list. I miss it so much.
Happy December 1st - May all of our Christmas Season be filled with love and light :)